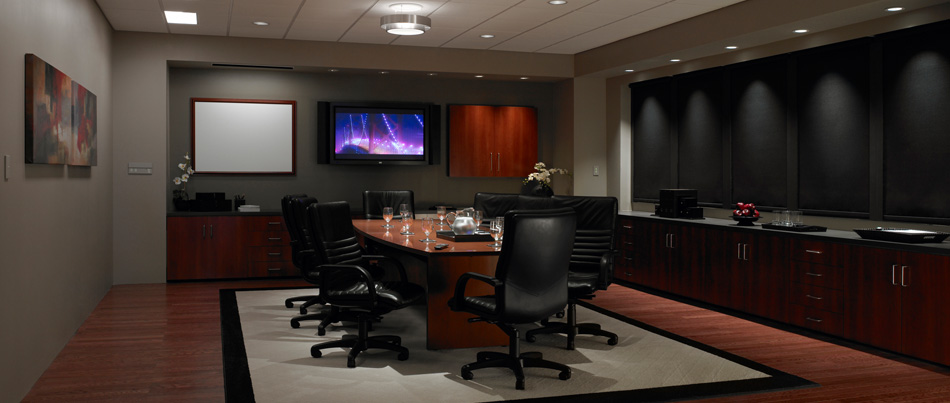 IDS makes your commercial business audio, video, security, phone and computer networking function seamlessly. Experience increased productivity, security, and functionality by automating your business processes. Get back to work and ease into the future with automated commercial services. From barroom to boardroom, IDS outfits your business for optimization.
Security & Fire
Open
Close
If your office is secure, you can focus on business. IDS will survey your specific business needs in order to design and install the best security and fire system for you. IDS can arrange access control, intruder detection systems, guard response, open/close reports, fire protection, carbon monoxide and gas detection, or other systems based on the unique workings of your business.
Video Surveillance
Open
Close
IDS gets you back to work with increased efficiency by offering a broad range of security cameras. Reduce many of the risks that can negatively impact your business and increase productivity with security cameras, digital recorders, monitors, remote viewing, and networked video solutions. Find a fitting surveillance solution that brings peace of mind now and grows with your business tomorrow.
Access Control
Open
Close
With access control, IDS enables monitoring of the comings and goings at the office. We provide flexible solutions to control entry and exit to your facility with audio and video intercom systems, card-swipe readers, and other access solutions to protect sensitive information or personal materials.
IDS custom designs and installs the perfect audio and video system for your business. Control all TVs from a single location. Play different music in different zones. Simplify functionality with a single remote. Install speakers that seam to disappear into the fabric of your space. By streamlining your audio and video, IDS amplifies the efficiency and impact of your business.
Corporate Board Rooms
Open
Close
With one touch, the screen lowers, lights dim, shades close, and the climate is perfect thanks to thoughtful and dynamic automation systems. IDS helps you focus on the meeting and not the technology. A properly automated conference room or boardroom allows you to conduct your business meetings seamlessly and confidently, resulting in improved efficiency and stronger impact.
IDS installs secure IT infrastructures for easy and efficient data management. IDS takes care of this critical piece of business, allowing you to focus on your business.